Denish Otieno Lango from Siaya County joined the exclusive millionaires club, thanks to a massive win over the weekend with Kenya's best mobile Sports betting site – BetPawa. Denish, who joined BetPawa just this year, could not hide his joy as he was received at the BetPawa Kenya offices for his triumph.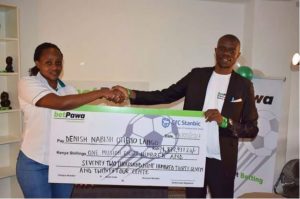 "On the last day, I realized that 20 out of the 25 matches were correct. I decided to pray all along, and could not even eat. When the final match ended, I really celebrated with my family and even started planning on how we would use the money" the winner said.
"I would recommend BetPawa to any bettors. They have the lowest stake of Ksh.1, have the best odds, an excellent customer service where they are always available to help and also their win bonus is just mind blowing. I enjoyed the 100% win bonus and that's what propelled me to this big win", he added.
With his 25 selections, Denish won Ksh. 941,968.25. However, having picked 25 matches, he qualified for a 100% win bonus, which meant that his winnings would be doubled and that's how he took home a cool Ksh. 1,883,936.49. You can check the betslip here.
Feeling lucky? The feeling is never enough. Join the winners! Choose BetPawa today. Sign up for free and get a Ksh.25 free bet and start playing today.