It's always advisable to go for the best TV brands in Kenya when you need a quality TV. Of course, the worst brands would lower prices to woo you but you'll regret if you don't choose high quality television.
When buying a TV, these are the factors to consider:
The picture quality should be high such that when you are watching from a distance of 30 meters, you can clearly see every happening in the TV. Blurred images affect user experience and it's what high quality TVs try to avoid.
Don't go for something too cheap or too expensive. You should always remember that cheap is expensive and when the deal is too sweet, think twice. If someone is selling a 32-inch television for Ksh8,000, you should ask yourself several questions before buying the same—you might reach home and find that it's just an empty box you are carrying to your house.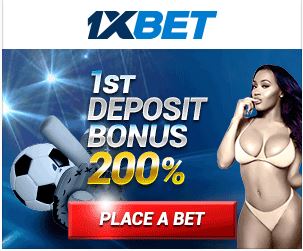 The fair price for a 32-inch TV is Ksh13,000 to Ksh25,000.
If you are buying a TV for the family, go for one of 32 inch and above. The bigger the size, the better the experience.
Where you buy the TV from
There are places known for selling high quality televisions, like supermarkets, online shops like Jumia and at Luthuli Avenue. Before purchasing one, you should ask some of your friends where they bought theirs from. Some shops sell already used televisions which they claim are brand new, when you take them home, they don't last months before developing issues.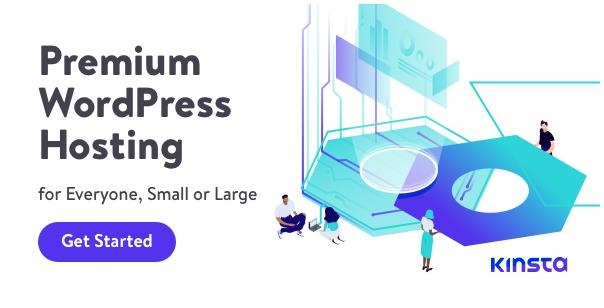 If you decide to buy online, I would comfortably refer you to Jumia where I always buy my TV.To check the list of available TVs,click on this link
There are three main types of TV, analog, Digital and Smart TV. Analog is the worst television to own in Kenya—don't buy it.If you are not interested in internet, buy a digital TV but if you would like to stream videos online through a TV,buy a smart TV.Smart televisions are the best because they can be connected with the internet.4K TV are also available in Kenya but they aren't cheap. You can also buy a curved TV but they aren't better than smart TV, it's only that they look classy.
Sale warranty is important too. Before you buy a television from any company, ask them whether they issue a sale warranty. This paper enables you to return the TV to the seller in case you find it faulty.
Each company uses its own materials to manufacture televisions, it's the type of material used that determine the quality of a TV. In most cases, cheap televisions are manufactured by cheap materials, meaning that they won't last longsome brands, like Sony, are known for producing high quality TVs.
Whether it's a brand new or second hand
If you prefer second hand TV, it means that you compromise on quality. The reason a TV is second hand is because the owner found something faulty in it or he had used it enough times to the point of replacing it.
Having said that, these are the best TV brands to buy in Kenya:
Sony is so far the best TV brand to buy in Kenya. At least half of the middle income households own this brand. One thing you'll love about Sony is the quality of images displayed on the screen. You can either buy a smart or digital TV based on your taste.To buy one,click on this link to visit Jumia website
Here are the prices for Sony TV in Kenya:
32 inch—Ksh18,000 to Ksh30,000
40 inch—Ksh 30,000 to Ksh55,000
55 inch—Ksh45,000 to Ksh65,000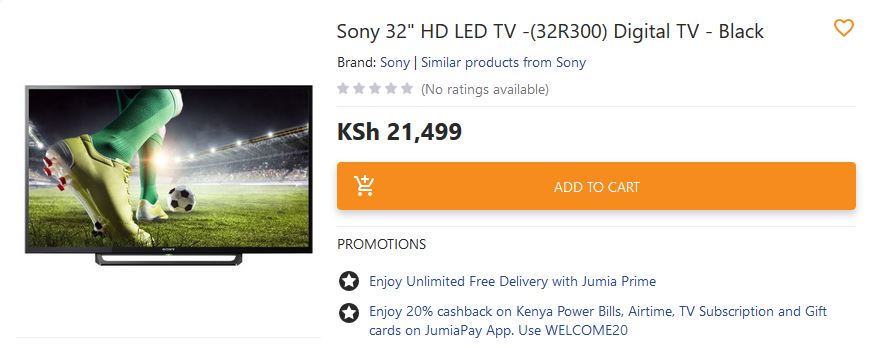 Samsung has always produced quality televisions, ridges and smartphones. If you need a quality smartphone, you'll either go for Samsung or Apple. Equally, their TVs are extremely good. It's not easy to find a counterfeit Samsung TV especially when you buy from places like Jumia and in leading supermarkets.
The best size is 32 and above. The best type is Samsung digital TV or Samsung Smart TV. Always go for a brand new Samsung because you are highly unlikely to find it faulty.
The price of Samsung is lower than Sony but the quality is almost the same. To buy one,click on this link to visit Jumia website
Samsung TV prices in Kenya:
32 inch TV—Ksh15,000 to Ksh 25,000
Samsung 49 Inch TV—Ksh 50,000 to Ksh 65,000
Samsung 40 Inch TV—Ksh35,000 to Ksh45,000
Samsung 32 inch TV is the most popular among Kenyans. If you buy from Jumia, they'll deliver to your home. To make an order,click on this link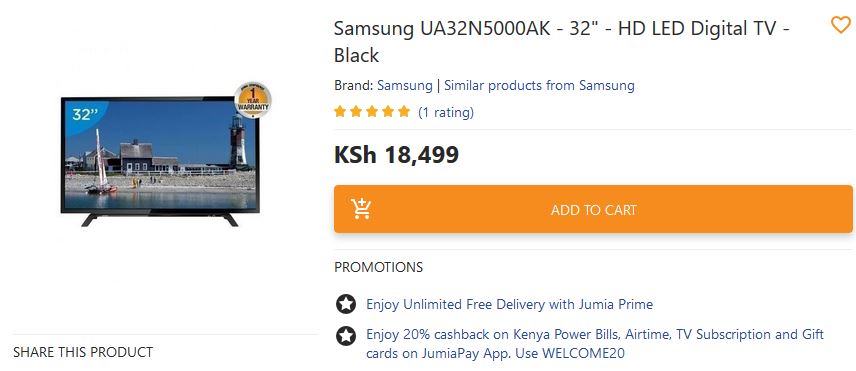 Over the past 5 years, the popularity of Hisense TVs has grown exponentially. I am one of the many Kenyans owning Hisense TV and I can attest that they are as good as Samsung or Sony TV. There are many similarities between Hisense and Sony TV.I always advise my friends that instead of going for Sony, they just buy Hisense because the quality is the same.
Hisense are the only quality TVs which cost less than Sony and Samsung. Here are the prices for the most popular sizes:
Hisense 32 inch TV—Ksh13,000 to Ksh22,000
Hisense 24 inch TV—Ksh8,000 to Ksh13,000
To get one from Jumia,click on this link
My Hisense TV is now 5 years old, I bought it in 2015 after my child broke the one I used to own, Samsung 32-inch TV.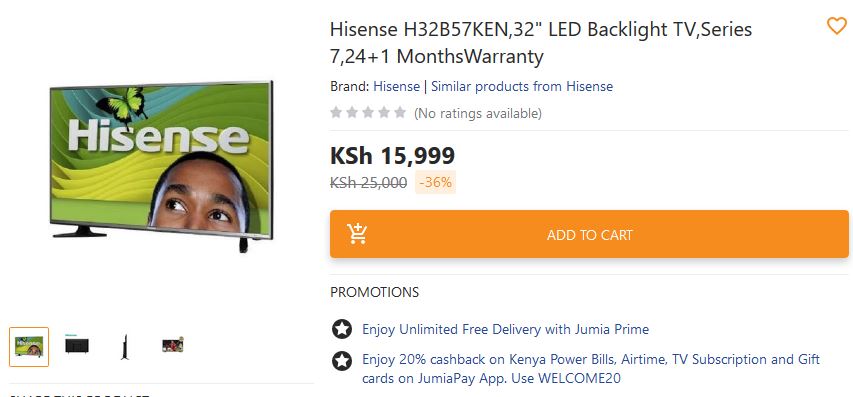 If you don't get Hisense TV,go for TCL —it won't disappoint you.I have used TCL before and it was a wonderful television. But don't make a mistake of buying an analogue one,if possible, buy a smart TV.
The best and most common TCL TVs are digital 32 inch.to buy one, you need Ksh 13,000 to Ksh 18,000. If you want a Smart TV which is 32 inch, you'll spend at least Ksh21,000.
There are several counterfeit TCL TV.If you need original one, buy from Jumia.To make an order,click on this link
You can also buy a quality TCL TV from Luthuli Avenue but you should always ask for a genuine Sales Warranty.If possible,ask your friends where they purchase from,then proceed to that location and order for TCL TV.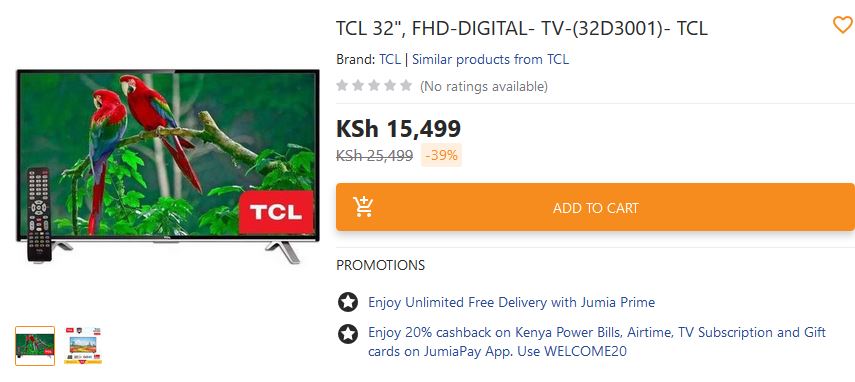 LG Products are also of high quality. The company manufactures smartphones, ridges and televisions which fare well in the market. When someone is figuring out which TV to buy,LG must come into mind because they are known to be good.
In Kenya,32 inch LG LED TV is the most popular, they cost Ksh 18,000 to Ksh25,000. Most people also buy Smart TVs to stream movies.
To buy a genuine LG TV,follow this link and make an order online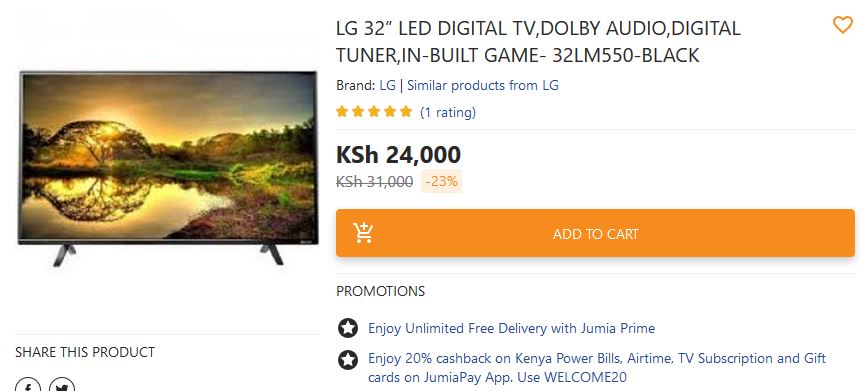 To buy a quality TV under Ksh 15,000, go for Vision Plus. You may not find such TVs in every shop but they are available in Jumia.A 32 inch LED TV costs less than Ksh13,000.To see available types,click on this link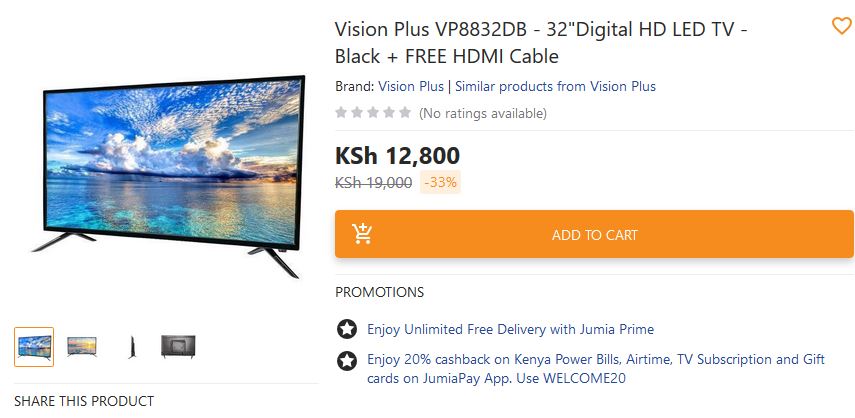 The last brand we feature here is Skyworth.This is a low budget TV which is suitable for middle class population.It is also efficient in electricity consumption. To get one for less than Ksh14,000,follow this link
From the list above, you'll pick your preferred brand and make an order online.If you buy from Jumia,the item will be delivered within 48 hours.