Over the past 5 years, I have created blog posts that get over 1 million views within a short time, I have over 30 such posts in one of my blogs—-it's not easy to come up with such posts but when you understand what the audience wants, you'll hit the 1 million target more often than not.
If you manage to write 1 article that attracts 1 million page views per month, you will be assured of making at least $1,000 monthly. As the articles with millions of views accumulate, you'll stare at your AdSense account as it records over $10,000 in revenues every month.
To come up with viral posts with over 1 million views each, do the following;
Write tempting and highly clickable titles
The first impression is what matters most in everything. Before anyone opens a link to read a story, they have to be tempted by the title. I have seen many blog post with catchy titles but when you open to read a story, you realize there's nothing much. But for your case, let the title be clickable and the content readable so as to retain your readers.
SEMrush is one of the popular SEO tools you'll use to come up with highly tempting titles that will rank high on Google, the tool will provide free trial plan for all new subscribers. To sign up for the tool, click on this link
Use the tool to search for the correct long-tail keywords that will help you rank high on search engines and eventually hit the 1 million views.
Make your article longest among your competitors
Before you post your article, make sure it contains the highest number of word count. Read every related article which is on page 1 of Google and count the number of words for each. If the longest article contains 1,500 words, make your article 3,000 words. Google will definitely rank yours above the rest if it's of high quality. Include tables, pictures and illustrations to explain your content in details.
Share your article on social media
Posting on your website and waiting for the article to get over 1 million views will be an exercise in futile. Beside posting on your website, share the article you wish to get 1 million views on Facebook, Twitter, LinkedIn, WhatsApp, Telegram and any other social media channel you know. If the article is useful enough, people will share it and eventually hit the 1 million views.
Make the article interesting to read
Ensure that people who read your article find it more interesting such that they can comment and share. Don't make a mistake of blocking comments, allow your readers to express themselves. The more people comment on an article, the more it becomes popular.
When I read an article and find it more interesting, I have to comment and share the article for my Facebook friends to read too—I have always done so. If I find that there is no share button, I comment and leave. I always advise my fellow bloggers not to hide share buttons, they are extremely important.
You should also make it useful for your readers.
Use SEO tools to help you create viral content
SEO tools like SEMrush will show you which articles are performing better than yours. Go through each article and select a topic with articles with more than 1 million views, then come up with your own article which is better than that article. Use SEMrush to come up with a title with the right long-tail keywords,click on this link to register for SEMrush for free
Sponsor the article on Facebook
Spend at least $50 to sponsor the article on Facebook. Within a week, you'll get over 100,000 from Facebook alone. This traffic will return over $100.
Submit your site to Opera Mini
Opera Mini will also help to boost your traffic, it's even better than social media. If your article is good enough, I will assure you that Opera Mini will give you more than 50,0000 views in a week.
Gmail may not allow you to send emails to thousands of people at ones, it will treat your emails as spam. There are many email marketing tools you can use to communicate to your readers. If you collect 50,000 emails and share the link for your article to all of them, I am sure more than half will open it, some will share on social media. One of the best email marketing tool you will use is GetResponse.The tool offers 1 month free trial,click on this link to subscribe for free
Create a blog post that has more than 1 million searches on Google
Before you create a blog post, always check how many people search for that title online. For instance, how to start a blog has 6.1 billion searches, which means it's a popular blog post. Don't create a blog post which no one searches for online.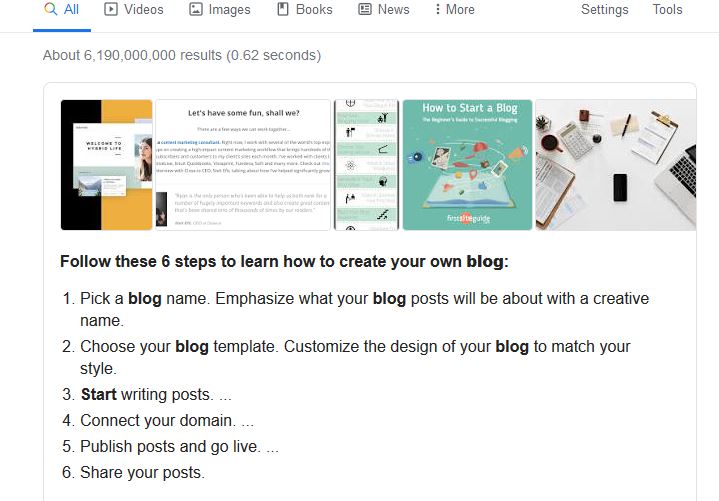 The article should remain at the home page for one month
Direct readers will always visit home page before opening any other page, most of them will read what's interesting at the home page exhaustively. By not having the article at the home page, you deny some readers a chance to access it.