There are many web hosting companies in Kenya which offer free web hosting services. Though the resources are limited, the free services will give you time to organize for subscription fee. Normally, free bosting services last for one month.
The main idea of providing free hosting services is to give customers time to decide whether to buy the premium services or shift to another hosting company based on the services already received from a hosting provide—30 days free hosting time is enough to make up your mind.
Here is a list of companies offering free web hosting services in Kenya:
Safaricom is one of the best web hosting companies in Kenya,it offers free web hosting services for new clients who buy domains from the company. Lite Hosting package is the one offered for free for one year.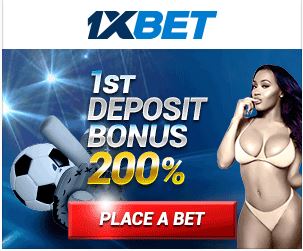 The plan offers these features:
50 MB Space
Free Email Security
5 Email Accounts
3 Sub Domains
2 FTP Accounts
Free Website Builder
Unlimited Bandwidth
Anybody choosing to buy a domain name that's worth Ksh1,300 is offered free hosting services for one year, the domain name costs Ksh1,300. After one year, you may decide to buy hosting space from Safaricom or shift to another web hosting company.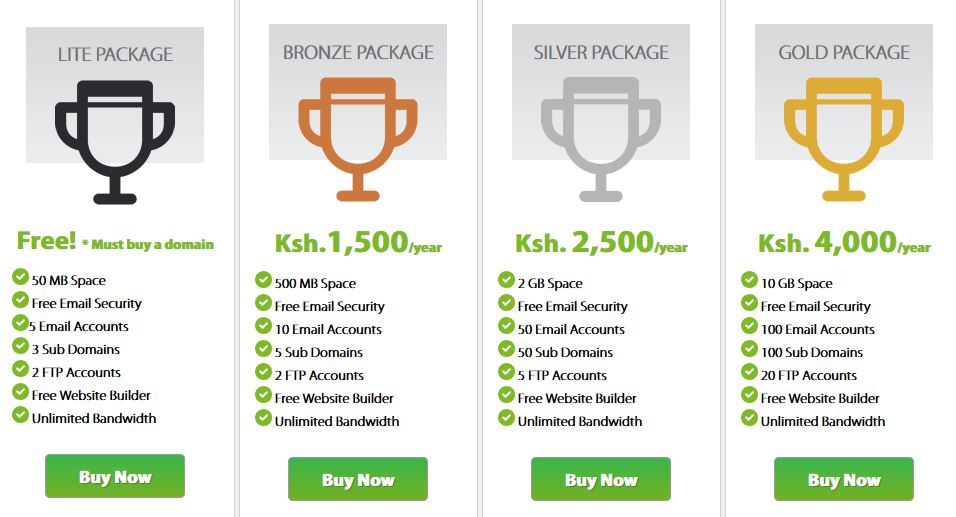 If you want excellent and cheap web hosting services in Kenya, join Truehost.The company offers free webhosting services under Bronze Hosting plan. The plan contains these features: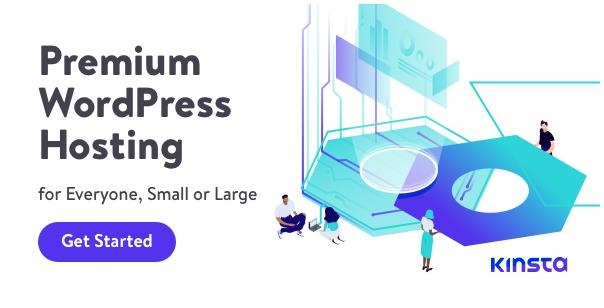 Up to 500 monthly visitors
1 website to be hosted
1GB Cloud Storage
1GB Bandwidth per month
Free SSL Certificate
Free Migration of your website
Once the free plan expires, you can choose Gold Hosting package that costs Ksh3,499 per year.

Mambo Microsystems Limited
Another reliable hosting company that offers free web hosting services in Kenya is Mambo Microsystems Limited. The free services are offered provided that you purchase a domain name from the company. In the free package, you'll receive the following services:
1-CLICK Script Installs
EASY Control Panel
15 GB Disk Space
Free Domain Registration
99.99% Uptime Guarantee
10 MYSQL Databases
15 emails accounts
24/7 Full Online Support
Mambo Microsystems Limited also offers premium web hosting services. Upon the expiry of the free services, you'll choose one of their plans. There are three main plans; economy, standard and business. Economy plan is the cheapest at Mambo Microsystems Limited and it costs Ksh3,000 per year.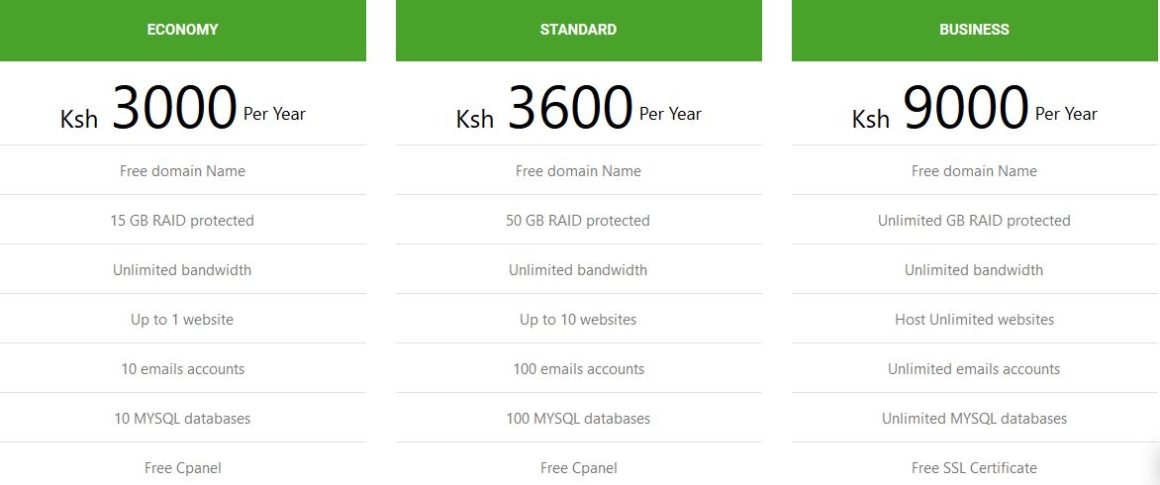 Movetech Solutions Limited.
Movetech Solutions Limited has a free package for new clients which goes for one year. The free hosting plan comes with 1GB storage space, unlimited email accounts, free SSL certificate and daily back up. Only one website is hosted for free.
Movetech Solutions Limited also offers web design services, SEO, bulk SMS and graphic design services.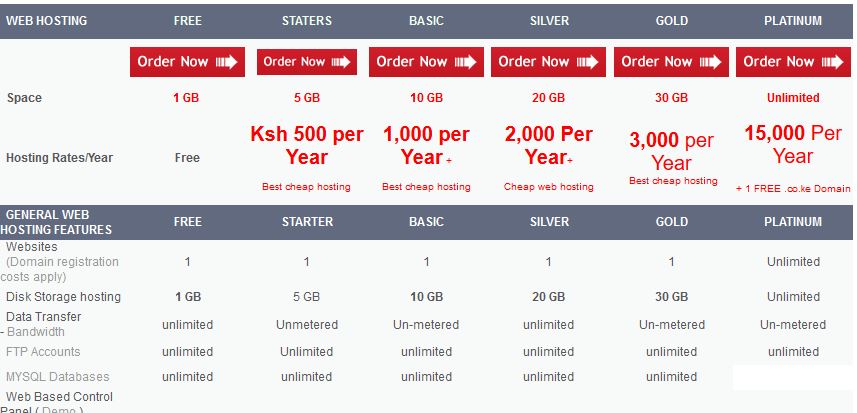 We can only advise you to choose the companies listed above if you need free hosting services.But it's good not to rush to select a company because you may get several hosting challenges later.There are specific hosting companies which do not offer free hosting but their services are excellent.We have two companies which have stood out over time,they include:
Kenya Website Experts offers cheap, excellent and reliable hosting services which cost as low as Ksh2,100 per year. Most of the bloggers in Kenya are hosting their blogs with this company—even some of my blogs are registered and hosted by Kenya Website Experts. Ever since I started using the company in 2013, I haven't gotten any serious challenge.
If you don't want to get hosting issues in future, choose Kenya Website Experts. To learn more,click on this link
When you visit Kenya Website Experts website, choose the starter plan that costs Ksh 2,100 per year, that will comfortably host a website with over 100,000 monthly page views.
The second best hosting company, which is even cheaper than Kenya Website Experts is HostPinnacle, it costs Ksh 1,500 per year to host a blog here. Their services are also excellent. The good thing is that HostPinnacle also provides free SSL certificate, free migration,30-day money back guarantee and web design services. To learn more about the hosting company,click on this link
I would suggest that you go for either Kenya Website Experts or HostPinnacle because they offer the best hosting services.
One disadvantage of free hosting services is that the resources are limited. Once your site starts growing, the hosting company will send you an email demanding that you upgrade to the premium hosting plans. If you fail to upgrade your site is suspended. This is why it's important to choose the premium hosting plans provided by reliable hosting companies like Kenya Website Experts.
The free hosting services is not free as such, most companies provide such hosting services on condition that you buy a domain name from them.
For those who don't want to host their blogs in Kenya,I would suggest Bluehost.All reviewers recommend Bluehost because it's suitable for small, medium and high traffic websites. To start hosting with Bluehost,click on this link
Bluehost charges Ksh 395 per month for hosting new website. On average, you'll spend Ksh4,000 per year.
In Kenya, new websites pay Ksh 1,000 to Ksh3,000 per year for hosting. If you get a company charging more than Ksh 4,000 when a blog is new, that's not a good web hosting company.